About Us
Designed by barbers, for barbers (and hairdressers, as well, of course).
Our range of exclusive products have been six years in the making, but we think they've been worth the wait.
With four main strands, we have aimed them to match what's trending (and trendy) in 2015.
The messy texture of Matt Clay is offset by the extreme hold of Shaper, while the flexibility of Cream perfectly complements the high shine of Pomade.
Not only that, but we have beard shaving oils and moisturisers as well. What more could a client want?
Have a look at our Products and if you like our range, please feel free to get in touch. We're always up for a natter with like-minded people in the trade to hear more about what's cutting it (sorry) with their clientele.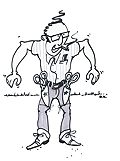 Rad, the boss, is a friendly type, which is lucky as he's had hundreds of people to smile at in the mirror over the past 20 years. (Which is pretty much half his life. So he should be fairly good at it by now).
It was these very customers who inspired the range of products on this site - small talk about summer holidays dropped for a gentle quizzing on their ideal hair products.
As we said, we think it's been worth the wait...